Minister of Music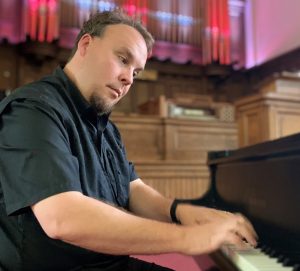 Christopher Bowman (M. Mus Memorial University, B. Mus Mount Allison University) enjoys making music in many forms – as a conductor, solo and choral singer, educator, and composer. He is full-time Minister of Music at First United Church in Truro, Nova Scotia, and Artistic Director of the Cantabile Society of Truro, where he conducts the Cantabile Singers and co-conducts the Cantabile Boys' Choir. He also sings with the Juno-nominated Canadian Chamber Choir and takes great delight in the fact that choral music has given him the opportunity to sing in every Canadian province. Chris is active as a baritone soloist; his debut CD "Over Hill and Valley" with pianist David Chafe won Music NS and Music NL awards, and was nominated for an East Coast Music Award.
Chris loves working with choral singers of all ages and stages, and has conducted community, church, school, and university choirs in Atlantic Canada and Ontario. He is sought after as a clinician, adjudicator, and lecturer, and has taught in various university music departments in Atlantic Canada as a sessional instructor. As time permits, he is a composer/arranger of choral music, and in recent years has become interested in hymn writing; along with Valerie Kingsbury they have formed Tidal Bore Music to further this venture – their music can be found at www.tidalboremusic.ca.
Chris and his wife Laura are incredibly proud parents of Erica and Meredith, and live in Valley, Nova Scotia.
You may reach Chris at:  chris@firstunitedtruro.ca
Photo by Michael Mugford